Здесь можно скачать тестовые фотографические миры.
ISO 12233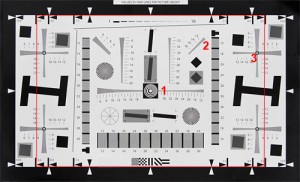 Скачать фотографическую миру ISO 12233
к содержанию ↑
Улучшенная мира 12233 (но нестандартная)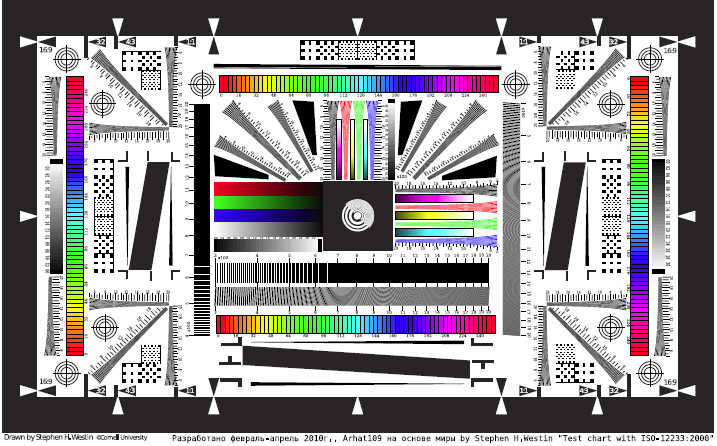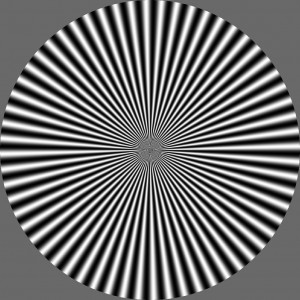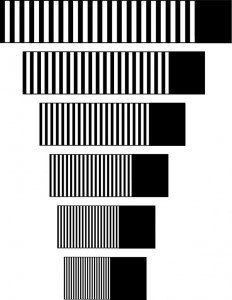 Миры Norman Koren

Пространственная частота линий от 2 до 200 lp/mm.
It includes a sine pattern for estimating MTF, a bar pattern for visually estimating sharpness, and contrast reference patterns, which are useful when a film image of the chart is to be visually evaluated.
Each chart is characterized by a length, which is its intended size when imaged on film or a digital sensor. It is printed greatly magnified, 50 to 100x. For example, the chart below is designed to be imaged 2.5 mm (0.0984 inches) long and to be printed 25 cm (9.84 inches) long on letter-sized (8.5×11 inch) or A4 paper— 100x magnification. 5 mm charts are also available.
Several copies of the chart can be printed out and arranged vertically, horizontally, radially or tangentially to make a test target. I recommend using a high quality ink jet printer such as the Epson 1270/1280/1290/2100/2200. Results were inferior on a 600 dpi Hewlett Packard LaserJet.
Гамма 1.5
Гамма 2.0
Мира с концентрическими кругами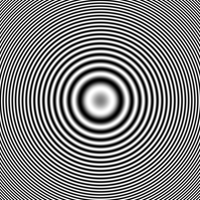 Описание:
1000×1000 pixel target with concentric cycles with a sinusoidal modulation from black (0) to white (255). The spatial frequency of the 'rings' ranges linearly from zero in the center, to one cycle (somewhat similar to 1 line pair) in the corner. The choice for a continuous tone target was made because it is a closer representation of a discrete quantization of a photographic image, such as from a scannner or digicam, than a bi-tonal pattern. Bi-tonal images, such as line drawings or to a certain extent text, may require different methods for optimal size reduction.
Скачать фотомиру (1280 пикс по ширине)
Скачать фотомиру (7557x5669px)
Скачать фотомиру (12000x12000px)